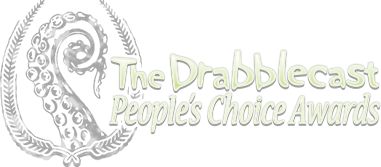 Best Drabble
Vote for your favorite drabble for the last Drabblecast year, from among the nominees.
Poll ends Monday, May 11th, at 11:59 PM, PDT
(Extended 1 week!)
---
Drabble Nominees:
Links are provided to both the audio/main page for each drabble's episode and for the text of the drabble. (Keep in mind that Norm's audio really brings out the awesome in a drabble.)
312
(
audio
|
Drabble text
)
Tar Pit: A Love Story by Rachael K. Jones
A love story between a tree and its hole.
337
(
audio
|
Drabble text
)
The Summoning by Phineas QP
I listened with mounting horror, unable to intervene as she spoke the dreadful syllables I had so feared.
339
(
audio
|
Drabble text
)
Letting Go by Liz Pennies
"Ah." He shuffled his feet. "So? how did you die?"
340
(
audio
|
Drabble text
)
Not From Around Here by Derek Manuel
Somewhere, people are shooting each other in the street. Not here.
342
(
audio
|
Drabble text
)
DIY Spaceship Repair by Monsieur Moustache
No thanks to his injured arms but to his enslaving-device and the hapless 'Earth' native he'd shanghaied.