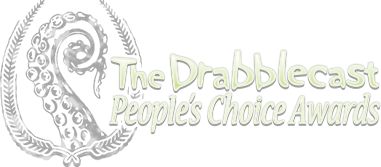 Best Story
The voting for Best Story has resulted in a two-way tie. This is Drabblecast (There can be only one).
Help resolve the tie with your vote, above.
Poll ends Saturday, May 16th, at 11:59 PM, PDT
(subject to change)
---
Choose between:
313 & 314
(
audio part 1
,
audio part 2
|
forum
)
The Blue Celeb by Desmond Warzel
When me and Joe got home from Vietnam, we went into business together, cutting hair. Bought a little shop in the old neighborhood and been there ever since. Back then, wisecracking Harlem barbers weren't a cliche yet — at least not south of 110th Street.
335
(
audio
|
forum
)
To Whatever by Shaenon Garrity
To whatever lives in the walls—
Please stop taking my half & half.