Update (Monday, September 22nd, 2014):
Drabbleclassics 7 - The Store of the Worlds
Feature:
The Store of the Worlds
by
Robert Sheckley
No drabble for this episode.
Genres:
Drabbleclassics Drama Fantasy
Original Episode:
188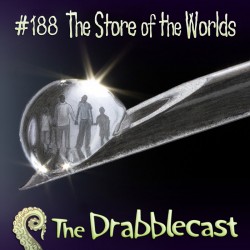 Friday, November 19th, 2010
Tompkins sighed. "What happens is this: You pay me my fee. I give you an injection which knocks you out. Then, with the aid of certain gadgets which I have in the back of the store, I liberate your mind..."
Music by:
19 Action News
, special closing music: Pick up the Phone.
Episode Art: Lizanne Herd
Episode Sponsor: Frank Key's Story Anthology,
"Impugned by a Peasant"
Forever Angels
Originally published in Playboy, 1959. Audio rights were obtained through the author's estate.
Twabble:
" I had heard that love is blind. Just before my son's viola recital, I prayed that it was deaf as well. " by
Ben Hathaway