Feature:
2135: The Year Disco Came Back
by
Kevin Bennett
Genres:
Comedy Sci-Fi Strange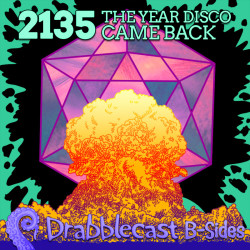 Monday, January 12th, 2009
And with a mighty crack the sky opened up! There, sitting on a throne of ivory and omnipotence, was the Lord in all his terrible glory. And God said: "Let there be Funk!"
Music by: Norm Sherman,
The Cheebacabra
, and
Fumbata
.
Closing Music by
Marty Stuart
Episode Art:
CRNsurf
Originally published in
Clockwise Cat, 17 December 2008.