Feature:
The Call of the Pancake Factory
by
Ken Liu
Drabble:
Lovecraft
by
Chris Munroe
Genres:
Comedy Horror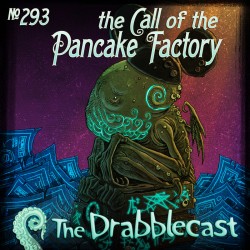 Thursday, August 22nd, 2013
The bar is plenty kitschy: goofy statues made from coconuts everywhere and strings of shell beads hanging from the ceiling. I smile when I see a coconut sporting a pair of mouse ears made from scallop shells.

Tourists from all over the world are sitting around, ordering drinks non-stop because the sun is so hot at this time in Indonesia that you'll wilt if you go outside and also because the drinks are so watered down. But that's all right with me. I'm here to blend in, not to get drunk.
Lovecraft Month
Episode Art:
Bill Halliar
Read by:
Rish Outfield and Big anklevich of the Dunesteef Podcast
Twabble:
" "Grains," said the vegetarian zombie hoard. Farmer Bill aimed his shotgun. The alfalfalypse wasn't happening today. " by
MonsierMoustache