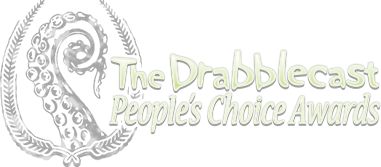 Best Twabble
Vote for your favorite twabble for the last Drabblecast year, from among the six nominees.
Poll ends Saturday, March 22nd, at 11:59 PM, PDT
---
Twabble Nominees:
272
(
audio
) author:
nevermore_66
" "Doctor Doom? I'm from Mothers Against War, Anguish, Horrors, Anger, Hate & Atrocity."
"Mawahaha!"
"Yes, that's us." "
273
(
audio
) author:
Algernon Sydney is Dead
" I pull the paper slip out. It reads, "You will choke to death on a fortune cookie."
If I could breathe, it would be amusing. "
280
(
audio
) author:
Laria Grey
" My butcher offered me a hand with my parcels, but they never have enough meat to justify picking out all the little bones. "
283
(
audio
) author:
seani
" As I type, revelations pour onto the screen. I realise I've selected "Absolute Truth Serif"- the font of all knowledge. "
291
(
audio
) author:
Tom Baker
" They say, "Write about what you know." So she heeded the advice, and had an excellent career writing rejection notices. "
310
(
audio
) author:
Kbilly
" Mommy, I'm really missing Daddy a lot. I know Sweet-Pea, but that's only because he runs so much. Just keep on reloading. "