Feature:
An Exodus of Wings
by
Bonnie Jo Stufflebeam
No drabble for this episode.
Genres:
Fantasy
Warning: Some adult themes and language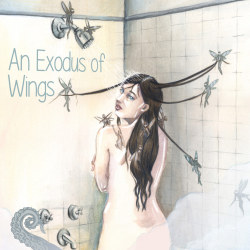 Friday, April 17th, 2015
Before Heidi came along, Michael did everything he could to keep the damn faeries out of his apartment. Every night he washed and dried his dishes, never left one dripping in the drying rack. Always fished the food particles from the drain, took the trash out, sealed his cereal in glass jars...
Produced by: Adam Pracht
Read by:
Trendane Sparks
and
Ibba Armancas
Episode Art:
Melissa McClanahan
This story first appeared in
Daily Science Fiction
, May 2013.
Twabble:
" The hair wasn't right. He turned it back to front and dabbed away blood. "Flawless," he said through the wet mouth-hole. " by
DrewDidThis