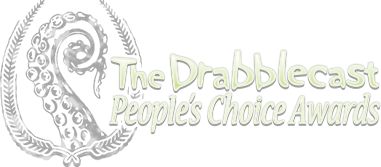 Best Story
Vote for your favorite story for the last Drabblecast year, from among the five nominees.
Poll ends Saturday, March 22nd, at 11:59 PM, PDT
---
Story Nominees:
Links are provided to both the audio/main page for each episode and for the forum thread for the same.
283
(
audio
|
forum
)
The Man Who Drew Cats by Michael Marshall Smith
Old Tom was a very tall man. He was so tall he didn't even have a nickname for it. Ned Black, who was at least a head shorter, had been 'Tower Block' since the sixth grade, and Jack, the owner of the Hog's Head Bar, had a sign up over the door saying 'Mind Your Head, Ned'. But Tom was just Tom. …
295
(
audio
|
forum
)
Twenty Ways the Desert Could Kill You by Sarah Pinkster
1. A poisonous snake could bite you, and you could die.
2. You could prick your finger on a previously undiscovered poisonous cactus.
3. The cactus isn't poisonous, and neither is the snake, but the snake's venom is a powerful anti-coagulant. You could bleed to death from the place you were bitten and/or pricked. …
298
(
audio
|
forum
)
Flying On My Hatred of My Neighbor?s Dog by Shaenon Garrity
I know my neighbor's dog as a bark: a deep, dark, venomous yawp that begins and ends on a snarl. It's loud, louder than it should be. Earplugs do nothing. …
299
(
audio
|
forum
)
The Revelation of Morgan Stern by Christie Yant
It is July 31, your birthday, and I can't reach you. I've been trying all day, but the cell networks are down, the internet is down. I even tried a pay phone–there are two left in town that I know of, and I collected all of my change and walked to the 76 in the village. It was on fire. …
303 & 304
(
audio part 1
part 2
|
forum
)
Hero, The Movie by Bruce McAllister
This romantic comedy begins where all low-budget '50s creature-features ended: The mutant insects born of atom-bomb radiation (or invaders from space, or monsters from the sea, or fifty-foot women) have at last been defeated and our small-town hero, with girlfriend Janie or June or Betty at his side, must now face the rest of his life. …