Feature:
The Ball Room
by
China Miéville
Drabble:
The Habitroll
by
Eric Marsh
Genres:
Horror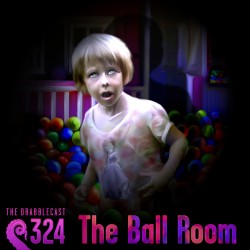 Thursday, May 15th, 2014
I'm not employed by the store. They don't pay my wages. I'm with a security firm, but we've had a contract here for a long time, and I've been here for most of it. This is where I know people. I've been a guard in other places—still am, occasionally, on short notice—and until recently I would have said this was the best place I'd been. It's nice to work somewhere people are happy to go. Until recently, if anyone asked me what I did for a living, I'd just tell them I worked for the store.

It's on the outskirts of town, a huge metal warehouse. Full of a hundred little fake rooms, with a single path running through them, and all the furniture we sell made up and laid out so you can see how it should look. Then the same products, disassembled, packed flat and stacked high in the warehouse for people to buy. They're cheap.
Episode Art:
Greg Cravens
Read by: Graeme Dunlop
First appeared in
Looking for Jake
, 2005
Twabble:
" "G-g-g-ghost!" yelled Steve, ashamed about his stutter. "St-St-St-Steve!" yelled the ghost. It was mean-spirited. " by
Jarod K. Anderson